Having not yet breached the depths of the inky pool that is Saber's character, I have made myself content with basking in the shining brilliance of her image in figures. Saber is a warrior who encompasses both loyalty and honour, a servant who is strengthened by unwavering pride and dignity. It's not an unnatural leap, therefore, that
Fate/Stay
fanservice has drawn on the theme of servitude and has redressed the female characters as maids.
Each girl has her been given her own individual style, set to enhance the finer points of her feminine charm. Saber, in contrast to her ample battle costume, is dressed in the fluttering flimsy ensemble associated with that of French maids. This irrefutably erotic uniform appears incongruous with her stoic battle façade and yet it works to expose the essence of Saber's fragile beauty. Her fair hair and fine features are given an all new gleam which glitters from within the petite costume.
Alter really know how to spoil their fans. With the sculpting excellence of the impeccable Millimeter Modelling, Saber shines supreme in this 1/6 scale maid model set to give any goshujin-sama the warmest of welcomes.
The Flamboyant frills of this intricately produced piece are finished to perfection on every level (right down to the lingerie, which makes me clamour for a trip to Agent Provocateur). She stands tall, resting her outstretched arms upon the mightiest tool of her trade, a long handled floor mop.
The high points of the sculpt (of which there are many) are illuminated by the inspired choice of pearlescent paintwork that gives both her body and clothing an exquisite lustre. The sparing use of gloss work exists to draw the light to her eyes, her delicate polished fingertips and to the glistening curves of her beautiful mouth.
The erotica is high class quite befitting the lady herself, preserving every inch of her integrity in an ensemble that in its excellence thus suits her honour. Saber is described as the most powerful of servants and this release from Alter is a tour de force of maid couture, one that realises every potential of her character to adopt the image without incredulity.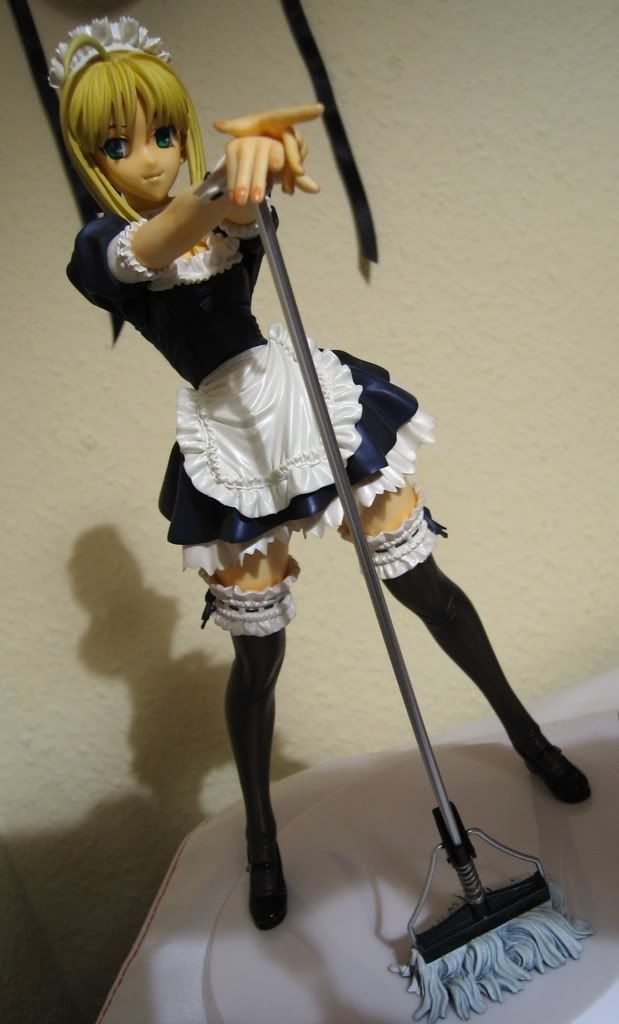 For the full exposé on this beauty, I highly recommend a viewing of the stunning shots at both HappySoda & Foo-bar-baz.