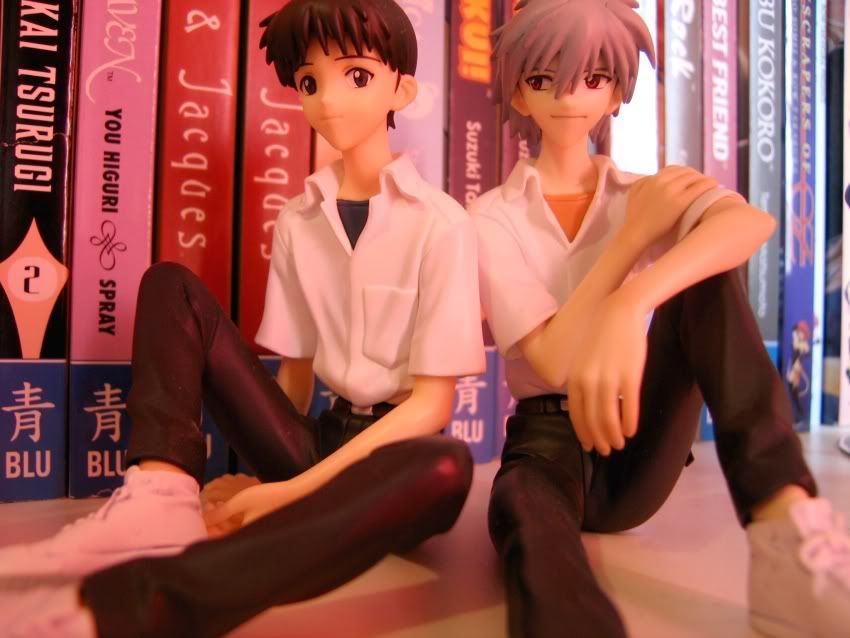 The delicate sakura tint of springtime tragedy, of boys - ephemeral beings with ethereal beauty. This is super boys' RABU RABU!!! Kyuuuuuu~n ~_~…..
Pardoning my moe moment, Kotobukiya in a wonderful deviation from the regular Rei and Asuka foray, made a surprise return with this pair of figures depicting
Evangelion
's Ikari Shinji and Nagisa Kaworu.
I was excited in the desolate wasteland that is the male figure market by this release from Kaiyodo quite in spite of ardent lusts for dynamic pieces. I can't help it, the arrangement, as sombre and frigid as it may be strikes into that very core that awakens the BL beast sealed within me.
The piece is frustrating but rings true to essence of their relationship to the brief period of calm that exists between them as they maintain a reciprocally inquisitive connection that binds them to each other. I cannot fault the faithful representation that the sculpt of each face offers and as even the great Yoshiyuki Sadamoto, at times has issues with Kaworu's character design, I appreciate this even more.
Yes! I admit it! My soul screams MOTTO MOTTO!!! It pleads to some indistinct deity for divine mercy – answer my plea to flood the market with male figures to match their sister bounty! If only for variety in my harem, make the legendary image before you into a decadent arrangement! Render my Lelouch! Sculpt me a Soubi! Carve me an Takuto Izumi!....Yappari muri da…
orz